Learn More About Lighthouse Properties
Company Profile
Lighthouse Properties is a propriety hotel development and management company committed to selectively developing and acquiring hotel properties positioned to be best in class within their respective markets and categories. The company selectively develops and acquires hotel properties positioned to be best in class within their respective markets and categories.  Current properties both rank as the Number 1 hotels in their cities by TripAdvisor. In Quality Assurance guest scores, each hotel ranks well. The Raphael is #4 among the world-class hotels in the Autograph Collection. Homewood Suites is in the top 20 among all of the brand's U.S. properties. In financial performance, each hotel is a market leader in occupancy with average rates.
The company is known for its deliberateness, patience, long-term vision, keeping its product fresh and daily devotion to upholding high standards of integrity and character. The company believes its key to success is its level of commitment to investing in each property and its associates – and listening to guests. "Guests need to see value in their experience," says Steve Miller, director of operations. "There is a difference between saying you want to be the best and committing to be the best,"
Corporate Leadership
Stephen Miller, Director of Operations, Lighthouse Properties
Steve joined Lighthouse Properties in 2006, bringing with him more than 20 years of hotel industry experience and a reputation as a difference-maker. He has worked in a variety of hospitality operations, including suburban, downtown, resort and theme park properties. He has held Food & Beverage, Sales, General Manager, Quality Improvement and Regional and Vice President of Operation positions. He is responsible for operations of The Raphael Hotel in Kansas City, Homewood Suites by Hilton at the Waterfront in Wichita and concept properties under development.
Don Boos, Director of Development, Lighthouse Properties
Don joined Lighthouse Properties in 2005, bringing with him extensive real estate and hotel development, franchise relations and finance expertise. He had operated American Executive Management, Inc., a hotel management company he founded in 1995.  He previously served as president of Grand American Hotel Management, Inc., a hospitality development and management firm with experience in hotels, condominiums, and resorts. Don is responsible for the development of Homewood Suites in Wichita, Kansas, the renovation of The Raphael Hotel in Kansas City, and current projects under development.
Properties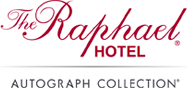 The Raphael Hotel
325 Ward Parkway
Kansas City, MO 64112
816-756-3800
800-821-5343
Fax 816-802-2131
www.raphaelkc.com


The Raphael Hotel on Facebook


Chaz on the Plaza on Facebook